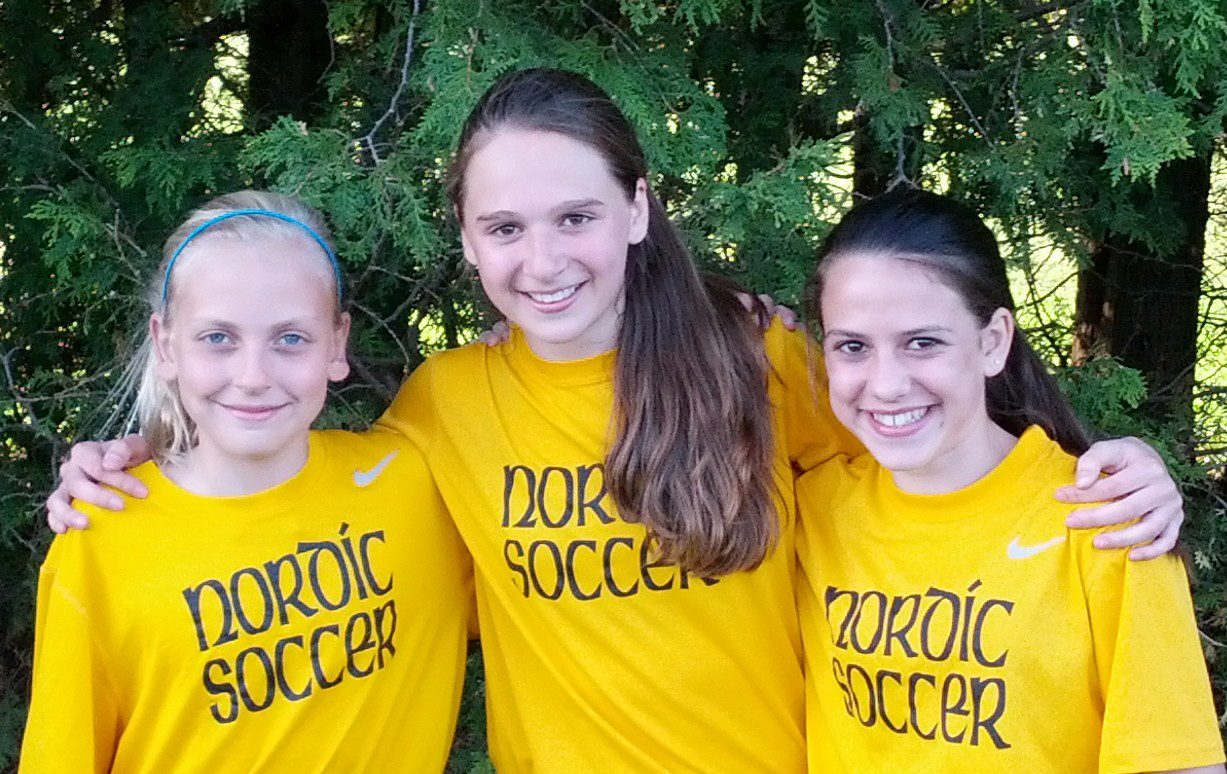 GO NORDIC is a free additional program for female athletes who are part of Nordic Soccer Club. The program provides our female Nordic players with diverse learning opportunities that will increase their self-awareness, advocacy skills, and overall confidence as female athletes.
"GO NORDIC" PROGRAM… Go farther, stronger, together…….
a. GO stands for "Girls and opportunities."
b. Go farther together, than alone (brings club/premier girls together in unified way)
c. Go jointly, being strengthened by those around us (from within Nordic as well externally, from national and local experts).
d. Go together, sharing our skills and passion for the game of soccer
GO NORDIC is a nationally-recognized program of excellence that focuses on "whole-body wellness" of female athletes. As such the program includes:
• Social and psychological development/training
• Exposure to educational resources and experts
• Becoming a positive role model/peer pal
• Creating memorable, life experiences amongst Nordic girls
There are several Go Nordic events during the season:
· A Comprehensive Sports Performance Series: At least three times per year, girls will have the opportunity to meet together (multi-age and club/premier) in informative/player development- focused sessions. These sessions will offer exposure to the latest information on sports nutrition, injury prevention and sports psychology from national and medical experts. In the 2014-2015 season, GO NORDIC girls were inspired by Dr. Heather Barber (Nationally-recognized/ ODP Sports Psychologist), Nancy Clark (Nationally-recognized nutritionist who has worked with the Boston Red Sox, Boston Celtics, numerous Olympic athletes, as well as with the Boston Breakers. In addition, our entire club had the opportunity to hear, and engage with Dr. Roger Knakal, Md, Medical Director of Physical Medicine and Rehabilitation, University of Vermont Medical Center, and Assistant Professor of Orthopaedics and Rehabilitation at the University of Vermont. Dr. Knakal specializes in Physical Medicine and Rehabilitation, and was on the committee that wrote the initial state guidelines on concussions.
· My Story" Speaker Series: Exposes our players to high-profile women's soccer coaches who will motivate and inspire our players through their stories and interactive sessions. In 2015, Nancy Feldman (Head Women's Soccer Coach – Boston University) held an interactive session on Feb. 8thwith our older players (U13+). This event was the highlight of our indoor season!
· Girls Night In." Go Nordic girls also have the opportunity to develop on-going, sustainable relationships with local youth, including the Boys and Girls Club of Burlington (2014/2015) and Greater Burlington Girls Soccer League in 2015/2016 in fun/interactive sessions by which our Nordic girls introduce other girls to the exciting game of soccer. These interactive bonding experiences speak to the collaborative autonomy and self-confidence building component that GO NORDIC strives to foster in our players.
· Fun Team Bonding Experiences: GO NORDIC girls attended the final of the Women's Under 20 World Cup final in Canada on August 24th, 2014 as well as a round of 16 match during the Women's World Cup in 2015!!!!!
COME JOIN IN THE FUN!!
We hope to see you at our next GO NORDIC event….